Smart thermometer with one CR2032 battery (in order to take the battery out detach the battery cover and slightly lever the battery)
Temperature probe with heat-resistant cable. The probe can withstand the temperature of 482°F ( 250°C ) .
Description:
1. Leave-in probe thermometer works with mobile app via Bluetooth to monitor temperature,
cooking progress and time remaining from anywhere, using your iOS or Android smartphone or
tablet.
2. Choose from preprogrammed settings for different types of meat and select your ideal
doneness
from rare to well-done, or add manual settings for specific temperatures.
3. Create pop-up alerts for a variety of tasks based on the remaining cooking time of the main
dish.
4. Use the app to seamlessly share pictures on Facebook and Twitter and Email.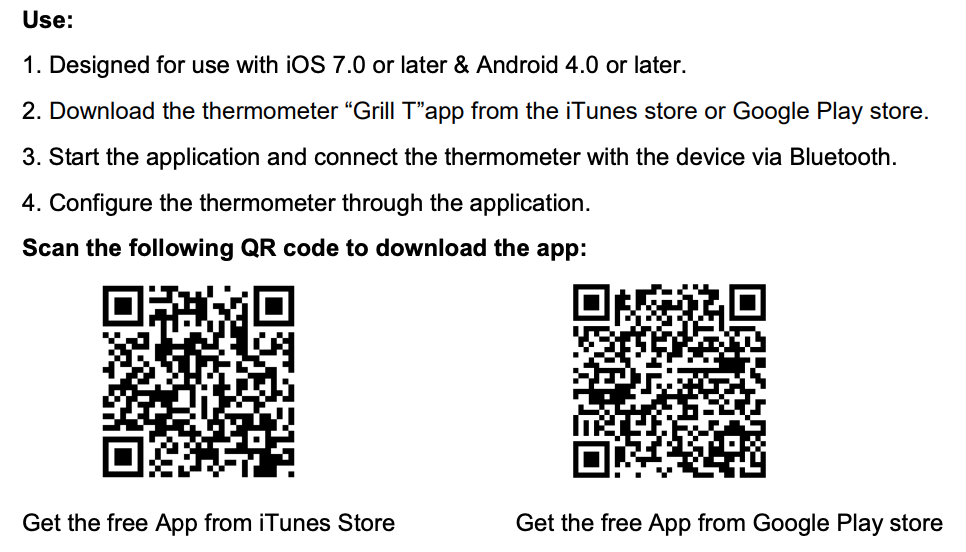 Get the free App from iTunes Store Get the free App from Google Play store
Please check app Support section for additional instructions
Safety Warnings:
1. The stainless-steel probe and wires will get hot. Take care when removing.
2. Keep the probe and wires away from children.
3. Do not use probe in a microwave oven.
4. Do not expose the thermometer base to direct heat.
Cleaning:
After each use, the sensor and cable should be wiped with a damp cloth and then dried
thoroughly. The sensor and the thermometer base should not be immersed in water. To avoid
damage, do not use detergents or abrasive cleaners.